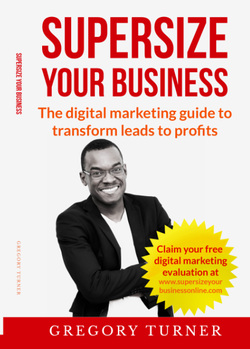 Today more than ever most consumers depend on the internet to provide information on companies, products and services. In Canada there are over 17 millions users using social media, 41% of Canadians use a smartphone and are making buying decisions based on information they receive on the web.

How are you taking advantage of this great opportunity?

What is your digital presence?

Do you have a digital marketing strategy?

If you do, how much are you earning from your strategy?

"Supersize Your Business" is the ultimate guide on how to use digital marketing tools to your advantage to not just generate leads but to transform these leads into loyal customers. Gregory Turnerwww.4tuneinteractive.com
---